What do you do for fun in Vermont if you and your family are a bit more thrill-seeking than most? If you're the kind of person who thinks roller coasters are the perfect place for a nap and who would like zoos a lot more if they'd just let the animals run around with the people, you're just the kind of person who would get a kick out of the adventurous activities around southern Vermont. After all, who said family fun has to be boring?
Deerfield Valley Zipline Canopy Tours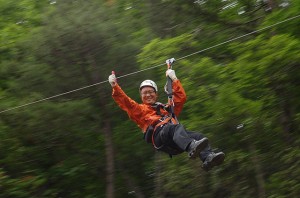 OK, so technically our first Vermont attraction isn't actually in Vermont - but it's so close it doesn't really matter, and it's so much fun you won't care. The zipline canopy tours and ropes course at Zoar Outdoor's Deerfield Valley Zipline in Charlemont, Massachusetts, are a perfect family activity for those families who thrive on adventure. Over 1.5 miles and 3 hours, you will complete 11 different zips, walk 3 sky bridges, and do 2 rappels from high in the tree canopy. And since the location is only a short drive south of Wilmington and southern Vermont, you'll be there and back in no time at all.
Bromley Mountain Adventure Park
What do you do with a ski resort in the summer? If you're Bromley Mountain, you turn it into one of New England's biggest outdoor adventure parks, complete with ziplines, rock walls, waterslides, and one of the longest alpine slides in the world. Bromley simply has too many activities and too much heart-pumping fun to list, so you'll have to check it out for yourself. Fortunately, at only an hour away from Chimney Hill, you'll easily be able to do just that. Just don't call it an amusement park; with lush green trails and beautiful views, this Vermont attraction is so much more.
TimberQuest Ropes Course
Tree houses and rope swings aren't just for kids, and TimberQuest is the proof. This huge Vermont ropes course in the tree canopies above Magic Mountain in south central Vermont is the best excuse you'll ever get to climb, zip, and swing from tree to tree like all kids -- young or old -- should do. And at up to 40 feet high, these ropes will certainly give you more of a thrill than your backyard tire swing did. And with courses rated from beginner all the way up to advanced, the whole family can have fun while finding just the right challenge.
White Water Rafting
One of the classic adventure sports, white water rafting is definitely not an attraction for the faint of heart. However, if you were faint of heart you probably wouldn't be reading this anyway, so white water rafting is probably right up your alley. In that case, we recommend the Deerfield River for a perfect balance of challenge and family-friendliness. Most of the river is rated at Class II, but it ranges from Class I all the way to IV for those families desiring additional challenge (or should we say additional fun?). Zoar Outdoor runs several types of rafting trips, both in Vermont on the West River and in Massachusetts on the Deerfield -- the same river that runs right through Wilmington.
Of course, no adventure vacation is complete without a place to crash at the end of the day. At Chimney Hill, you can get a Vermont rental home big enough for your whole family, plus all the gear you need for a properly adventurous vacation. Take a look at all our short-term vacation rental listings and find the perfect base camp for your trip.